"Why did they murder Yuuri!? ...and here I said to Yuuri's murderers......Thank You!"
―Anri Airi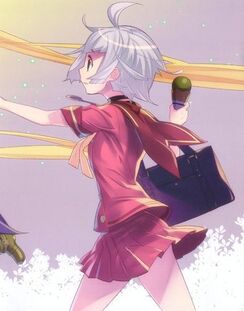 Airi Anri (杏里 あいり Anri Airi) is a character appearing in Puella Magi Kazumi Magica: The Innocent Malice. She was first seen briefly in Chapter 4, and had an expanded appearance in chapter 5. Her wish was to become the real Yuuri Asuka, and she blames the Pleaides for the death of the real Yuuri, who turned into a witch and was killed by the Pleiades.
"Do I have to listen to someone who's about to die?"
―Airi Anri (as Yuuri)
As Yuuri
(ユウリ)
, she repeatedly clashes with members of the Pleiades Saints. Kazumi is her primary target. As part of her disruptive actions, she can also create pseudo-witches from common humans by embedding them with Evil Nuts, "imitation" Grief Seeds.
Fanfiction Appearances
Edit
List your fanfiction here if this character appears in it.
Yuuri Asuka, a Magical Molly! reboot character with Anri Airi's revengeful personality.
Annie Airi, her Magical Molly! Reboot counterpart, which she's just a hospital patient.
Ad blocker interference detected!
Wikia is a free-to-use site that makes money from advertising. We have a modified experience for viewers using ad blockers

Wikia is not accessible if you've made further modifications. Remove the custom ad blocker rule(s) and the page will load as expected.