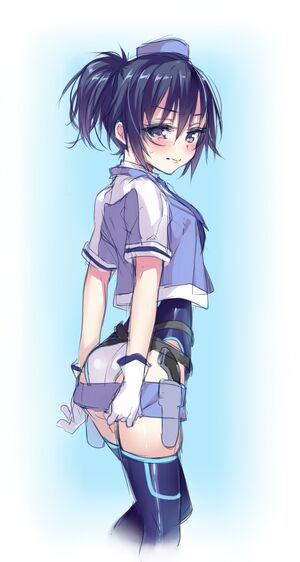 Chisato Shion (詩音 千里
Shion Chisato
) is a character appearing in
Suzune Magica
.
One of the Hoozuki Magical Girls, and the one who invited Arisa to join them. She is a strict follower of the rules, often lecturing Arisa on her rebellious and lazy attitude. She uses a pistol as part of her weaponry. She ends up being killed by Suzune during a night patrol with the other magical girls.
It is revealed in a flashback that Chisato convinced Arisa to join the Yunagi girls, after finding out she was lonely after beating her in a fight; another flashback reveals that Chisato's father was a creator of children's picture books and made a wish for his sake after her mother died.
Fanfiction Appearances
Edit
List your fanfiction here if this character appears in it.
Official Art
Edit
Manga Scans
Edit
Trivia/Notes
Edit
Her backstory shared a fewer similarities to Kyoko's backstory.

Chisato's first name is spelt with the kanji for "great distance" or "a thousand miles". The kanji of her last name, 詩音, mean "poetry" and "sound" respectively.
According to a post from GAN's twitter, Shion's Puella Magi costume is a mix of a disciplinarian & a swimming club outfit.
Chisato's hairstyle is somehow inspired by Atori Igarashi's, albeit with a short ponytail.
Ad blocker interference detected!
Wikia is a free-to-use site that makes money from advertising. We have a modified experience for viewers using ad blockers

Wikia is not accessible if you've made further modifications. Remove the custom ad blocker rule(s) and the page will load as expected.