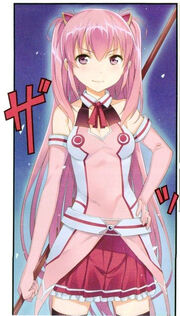 This page highlights the differences between
Arisa Narumi
from
Puella Magi Suzune Magica
and
Alice Nachelle
from the
Magical Molly! Reboot
series.
Differences
Edit
This Article is currently updating.
| Arisa Narumi | Alice Nachelle |
| --- | --- |
| Never met any of the other Magical Girls from other Puella Magi franchises. | Teams up with other Magical Girls. |
| Never met Kyouko. | Sometimes challenges Kacey in the Arcade Games. |
| Despises Suzune. | Had a great distrust (or hate) to Raven. |
| Shed her loneliness and her rebellious traits after joining the Hoozuki Magical Girls. | Sometimes disobeys orders from Kyra/Christina. |
| Killed by Kagari. | Remains alive in the present series. |
Ad blocker interference detected!
Wikia is a free-to-use site that makes money from advertising. We have a modified experience for viewers using ad blockers

Wikia is not accessible if you've made further modifications. Remove the custom ad blocker rule(s) and the page will load as expected.