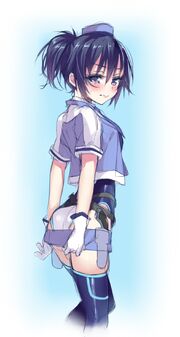 This page highlights the differences between
Chisato Shion
from
Puella Magi Suzune Magica
and
Christina Shion
from the
Magical Molly! Reboot
series.
Differences
Edit
This Article is currently updating.
| Chisato | Christina |
| --- | --- |
| Never met any of the other Magical Girls from other Puella Magi franchises. | Teams up with other Magical Girls. |
| Never had a skirt on her bottom part. | Includes a police uniform-stque miniskirt. |
| Her father was a creator of children's picture books. | Her father is a Commissioner-ranked officer. |
| Made a contract with Kyubey to change her father back into the kind man he used to be. | Made a contact with Morianna after she had saw Christina's heroic actions. |
| Her mother is deceased. | Her mother is currently unseen. |
| Never gained, or shown to have any additional weapons. | Includes an additional Telescopic Stun Gun, Shield, & Giant Cuffs. |
| Killed by Suzune in the second chapter. | Remains alive in the present series. |
| Never became a secondary leader of the Hoozuki Magical Girls. | Became a secondary team leader after Kyra's absence/death. |
Ad blocker interference detected!
Wikia is a free-to-use site that makes money from advertising. We have a modified experience for viewers using ad blockers

Wikia is not accessible if you've made further modifications. Remove the custom ad blocker rule(s) and the page will load as expected.