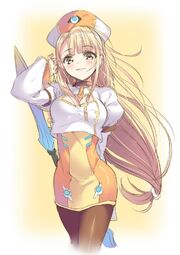 This page highlights the differences between
Haruka Kanade
from
Puella Magi Suzune Magica
and
Kyra Kanade
from the
Magical Molly! Reboot
series.
Differences
Edit
Note: Kyra's section is applied to the animated canon.
| Haruka Kanade | Kyra Kanade |
| --- | --- |
| Never met any of the other Magical Girls from other Puella Magi franchises. | Teams up with other Magical Girls. |
| Wears her hair plait on the right. | Wears her hair plait on the left. |
| Younger sister of her family. | Older sister of her family. |
| Became a Witch, and dies from Suzune's hands. | Nearly dies from Raven/Maia's hands. |
| Her only charm magic is to call an opponent's attention to herself. | Possesses additional charm magic. |
Ad blocker interference detected!
Wikia is a free-to-use site that makes money from advertising. We have a modified experience for viewers using ad blockers

Wikia is not accessible if you've made further modifications. Remove the custom ad blocker rule(s) and the page will load as expected.