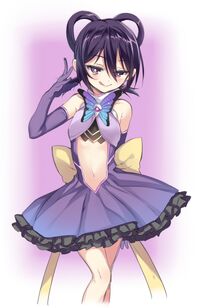 This page highlights the differences between
Kagari Hinata
from
Puella Magi Suzune Magica
and
Kathryn Hinata
from the
Magical Molly! Reboot
series.
Differences
Edit
This Article is currently updating.
| Kagari | Kathryn |
| --- | --- |
| Never met or fought any of the other Magical Girls from other Puella Magi franchises. | Fought (Magic Gem) or team-up (Dark Orb) with other Magical Girls. |
| Made a contact with Kyubey. | Made a contact with Arstera. |
| Saddened and enraged after hearing Tsubaki's disappearance. | Became saddened after her father's death, and becaming extremely enraged after Melody becomes a Magical Girl. |
| Mind-controlled Suzune. | Hires Suzune as her mercenary. |
| Never had any lackeys (Souju Ayase/Luca, and Sasa Yuuki) on her side. | Had Ignis, Grace, & Scierra as followers. |
| Never learned German. | Sometimes uses German language to her speeches. |
| Had a caretaker named Tsubaki Mikoto. | Never met Tsubaki since her young age. |
| Never seen attending school, nor is she ever seen in a school uniform. | Sometimes seen wearing a school uniform. |
| Never seen outside of her magical girl form. | Often wears a casual outfit. |
Ad blocker interference detected!
Wikia is a free-to-use site that makes money from advertising. We have a modified experience for viewers using ad blockers

Wikia is not accessible if you've made further modifications. Remove the custom ad blocker rule(s) and the page will load as expected.