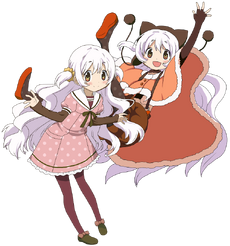 This page highlights the differences between
Nagisa Momoe
from
Puella Magi Madoka Magica: The Rebellion Story
and
Nancy Momoe
from the
Magical Molly! Reboot
series.
Differences
Edit
This article is still under construction. Further details will be added in the future.
| Nagisa | Nancy |
| --- | --- |
| Was once a Human. | Is a Kajiurian. |
| Made a contact with Kyubey. | Possessed the Kajiuria System via Homrue's modifications. |
| Her Witch form is Charlotte. | Never turned into a Witch. |
| Wished for one single cheesecake. | Developed a diet consisting of cheese. |
| Her powers were taken away by Akuma Homura in the end of Rebellion. | Still remains her powers even in years later. |
Ad blocker interference detected!
Wikia is a free-to-use site that makes money from advertising. We have a modified experience for viewers using ad blockers

Wikia is not accessible if you've made further modifications. Remove the custom ad blocker rule(s) and the page will load as expected.