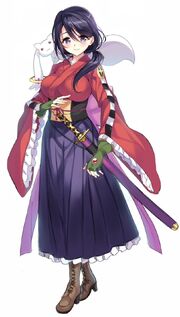 This page highlights the differences between two
Tsubaki
Mikoto's
, from either
Puella Magi Suzune Magica
, or in the
Magical Molly! Reboot
series.
Differences
Edit
This Article is currently updating.
| Tsubaki (Suzune Magica) | Tsubaki (Magical Molly!) |
| --- | --- |
| Never met, fought any of the other Magical Girls from other Puella Magi franchises. | Teams up with (Magic Gem) or fought with (Dark Orb) other Magical Girls. |
| Serves as a caretaker for Matsuri and Kagari. | Sometimes serves as a caretaker for Taylor Kelley. |
| Contacted with Kyubey. | Contacted with Morianna since 16. |
| Had one student: Suzune. | Had two students: Suzune then Hilda. |
| Became a Witch after because she put Suzune's health before hers. | Somehow nearly killed by an unknown humanoid Witch, but saved by Hilda. |
Ad blocker interference detected!
Wikia is a free-to-use site that makes money from advertising. We have a modified experience for viewers using ad blockers

Wikia is not accessible if you've made further modifications. Remove the custom ad blocker rule(s) and the page will load as expected.