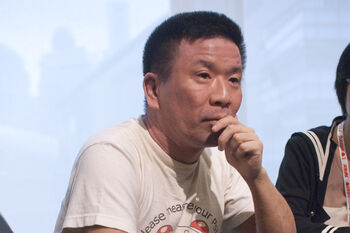 Gen Urobuchi (虚淵 玄, Urobuchi Gen, also known as Urobutcher (or Gen the Butcher) by fans), is a Japanese writer for visual novels, light novels, and anime. He is known for his dark style, nihilistic themes, and tragic plot twists. He's also known for his various works: Saya no Uta, Puella Magi Madoka Magica, Psycho-Pass, Masked Rider Gaim, And of course, Expelled from Paradise.
Gen also writes the script for the upcoming 2017 anime film about the King of the Monsters.
Trivia/Notes
His name: Uro (虚), is based on the word from the Chinese language version of nihilism (虚无主义).
His nickname "Urobutcher" is mentioned in "Puella Magi Mary Sue Magica" as the narrator describes Jayne/Niji's actions as undoing everything he did.
Gen is a fan of the Space Sheriff series, especially Gavan.
Gen is also a fan of Masked Riders:

He watched Kamen Rider Black in his high school days and also read the Kamen Rider Black manga by Shotaro Ishinomori himself.
He was introduced to producer Naomi Takabe by voice actor Tomokazu Sugita, known for voicing Kivat-bat the 3rd in Kamen Rider Kiva, leading to him becoming the head writer of Gaim.

He officially declares that Homura is the best girl. No kiddin'.
See Also
Gen the Butcher, a Magical Molly! Reboot Series character which is a fictionalized version of Gen.