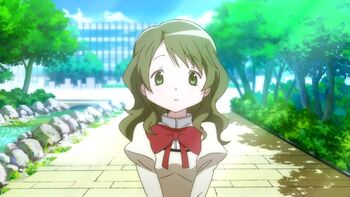 Hitomi Shizuki is (志筑 仁美, Shizuki Hitomi) Madoka and Sayaka's classmate and friend, although she sometimes feels left out of Madoka and Sayaka's friendship. Hitomi is quite popular amongst boys. At one point in the plot, she and numerous other people are possessed by a witch named H.N. Elly/Kirsten, and attempt to commit suicide by entering a mostly sealed warehouse and starting a reaction of bleach and ammonia, producing chlorine gas. Madoka, who throws the reaction container out a window before anyone is killed, saves her life just before getting caught in the witch's labyrinth, where she is further rescued by Sayaka when she arrives to kill the witch and save Madoka.
It is later revealed that she is also in love with Kyosuke, and her confidence in being able to confess her feelings only contributes to Sayaka's despair. She is later seen at Sayaka's funeral, clutching Kyosuke's shoulder and crying, and is said to have blamed herself for Sayaka's death.
Fanfiction Appearances
Edit
List your fanfiction here if this character appears in it.
Puella Magi Madoka Magica: Journey Through the Decade
Edit
In the AR world, she becomes a Puella Magi, with a large Scythe as a weapon. She also had a strong rivalry to Sayaka (despite the cooperation between her & Madoka). However, it was revealed that she does not contain the Magic source that Shirakami wanted. Her main debut as a Magical Girl is in the episode: The Green Puella Magi (?)
Hitomi doesn't appear until Chapter 7, when she accidently bumps into Niji Akemi in the hallway. Niji then angrily shoves her and demands that she stays away from Kyousuke Kamijou . She makes the same demands during the scene where she confesses her feelings to Sayaka, both terrifying and confusing her. Even more confusing is when she tries to report Niji's bullying to an adminsitrator ,but with not success. She is then brutally murdered by Niji in her Magical Girl form after trying to confess her feelings to Kyousuke.
Hilary, her Magical Molly! Reboot counterpart.
Ad blocker interference detected!
Wikia is a free-to-use site that makes money from advertising. We have a modified experience for viewers using ad blockers

Wikia is not accessible if you've made further modifications. Remove the custom ad blocker rule(s) and the page will load as expected.