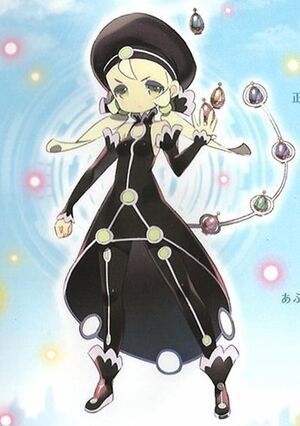 Kanna Hijiri (聖 カンナ Hijiri Kanna) is a character in Puella Magi Kazumi Magica: The Innocent Malice.
Having been cloned from the original Kanna, Niko, Kanna lived her life with general happiness. When she learned of her true nature after spotting Niko in battle, Kanna swore to get revenge, making a contract with Jūbey to become a magical girl by wishing to have the ability to 'connect' to others without drawing attention. Using this ability, she created the evil nuts and used Yūri and the Sōju sisters to exhaust the Pleiades' soul gems, taking Niko's place when she turned into a witch herself. Learning about Kazumi, Kanna made plans to bring about a new species of humans called "Hyades". Her connect ability also extends to her magic, allowing her to connect to various things, such as making witches obey her. She ends up using this power to combine several witches into a single being called the "Dawn of Hyades".
Ad blocker interference detected!
Wikia is a free-to-use site that makes money from advertising. We have a modified experience for viewers using ad blockers

Wikia is not accessible if you've made further modifications. Remove the custom ad blocker rule(s) and the page will load as expected.