Note: Some (or most) of the information is copied from Puella Magi Wiki or any other pages.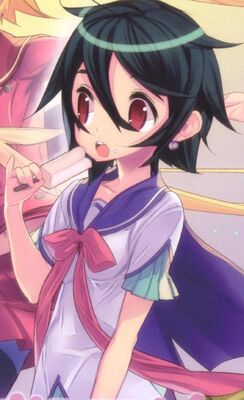 The main protagonist of Puella Magi Kazumi Magica,
Kazumi
is a magical girl with no memories besides her name, though she slowly starts to regain her memories as she fights alongside her friends, Umika and Kaoru. She wears bells on her ears that can sometimes change things according to her wishes, and an ahoge that allegedly can detect witches. She often judges people to be bad or good depending on whether they waste food. When transformed, she dons a black outfit with a witch's hat and fights using a large cross. As a result of her memory loss, she does not remember the wish she made as she never told Umika or Kaoru what it was. As a result of absorbing evil nuts from Airi, she occasionally enters a rabid state.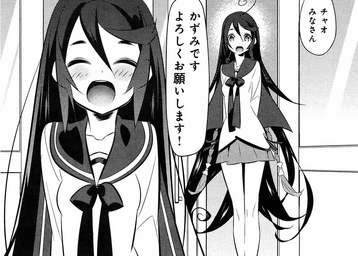 It is soon revealed by Satomi that Kazumi was originally a magical girl named Michiru Kazusa, who had died when she turned into a witch. The Pleiades decided to make clones of her, filling her corpse with the flesh of witches and having memories implanted by Umika, the current Kazumi being the 13th clone made. (Kazumi can be written in kanji as " (一三)", meaning "thirteen".)
During the climax, as Kazumi was technically a man-made magical girl who hadn't made a contract, she becomes a true magical girl with the simple wish to become human, taking on the last name Subaru (昴) (meaning "Pleiades") as she does so.
Fanfiction appearances
Edit
TBA
Ad blocker interference detected!
Wikia is a free-to-use site that makes money from advertising. We have a modified experience for viewers using ad blockers

Wikia is not accessible if you've made further modifications. Remove the custom ad blocker rule(s) and the page will load as expected.