Kevin Andrews is a Human from the Magical Molly! Reboot continuity family.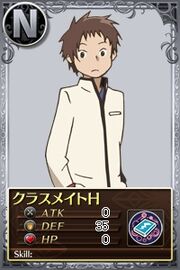 Kevin Andrews
is one of the classmates in Mitakihara High.
Trivia/Notes
Edit
The character is based on the generic character: Classmate H from Puella Magi Madoka Magica.
So far, Kevin is one of the generic characters who had gained an official name.
His voice actors:

Johnny Young Bosch, also previously portrayed as Adam Park in the Power Rangers series, and voiced Ichigo Kurosaki in Bleach, Bumblebee in Transformers: War for Cybertron, and recently: Noby/Nobita from the English Dub of Doraemon.
Daiki Hamano, also voiced Mua from Yona of the Dawn, Yūji Atsumi & Zaruyoshi Yakushidera from Shirobako, and recently: Sideswipe from the Japanese dub of Transformers: Robots in Disguise (2015).

He often sleeps in class, and not paying attention to the lessons.
He wishes to be a playboy and get more girls on his side...although he think that this is a very bad idea. But hey, at least he's realistic.
He also had some feelings to the female class rep.
Foreign Names
Edit
Japanese: ケビン·アンドリュース (Kebin· andoryūsu)
References
Edit
Ad blocker interference detected!
Wikia is a free-to-use site that makes money from advertising. We have a modified experience for viewers using ad blockers

Wikia is not accessible if you've made further modifications. Remove the custom ad blocker rule(s) and the page will load as expected.