This article is about a character outside from the Madoka franchise.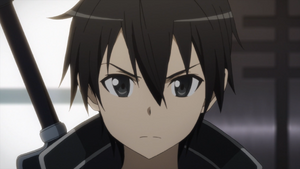 Kirito
(real name
Kirigaya Kazuto
) is
a 1337 HaX0r
Cheater
Gary-stu
one of the most powerful players in Sword Art Online (the game itself).
He had lots of girls hanging around with him (including Klein for a reason). I mean, seriously.
Sure, you'll say that he is the strongest swordman in the world game, but he's a weak person in real life. Sometimes.
Fiction
Fanon
Note: His name is NOT mentioned due to copyright reasons, so he was referred as "The main hero from the popular novel"
When Sabrina tries the new dual-wielding ability, Kacey gave a respond that her new ability reminded about that "dual-wielding dork as seen on some TV show"Magical Molly! Reboot (franchise)
In the 2015 Halloween Update, Sabrina helped Hilda choose a halloween costume...by giving the female version of the hero's outfit, but Hilda denied her recommendation.Magical Molly! THE GAME
Notes
According to an interview in MeguCon, the producer confirms that the said hero is actually Kirito.
The author is not responsible for you flaming his opinion to that dual-wielding cheater.
His Japanese VA: Matsuoka Yoshitsugu, also voiced Nakazawa from Madoka Magica, and of course: His Magical Molly! Reboot counterpart. Don't even expect that Nakazawa/Noel is going to build a harem.
Kirito is always ranked No.1 in many issues of Newtype Magazines. (Well, except for very little issues.)
See Also
Kirito in the Sword Art Online wiki
Ad blocker interference detected!
Wikia is a free-to-use site that makes money from advertising. We have a modified experience for viewers using ad blockers

Wikia is not accessible if you've made further modifications. Remove the custom ad blocker rule(s) and the page will load as expected.