This article is about a character outside from the Madoka franchise.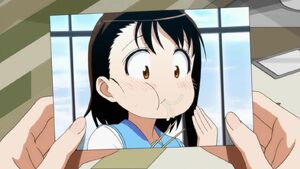 Kosaki Onodera
(小野寺 小咲, Onodera Kosaki) is a shy girl who had a crush on Raku Ichijou, the boy who possesses the pendant which can be unlocked by one of the keys (Onodera has one.).
She also has a younger sister named Haru.
Trivia/Notes
Edit
In the Nisekoi spinoff titled Magical Patissier Kosaki-chan, Onodera's Magical Girl outfit shares several inspirations from Madoka Kaname's outfits (especially the trademark frilly skirt).
Her Voice Actresses:

Hisako Kanemoto, which provides the Japanese voice of Melody Hinata from the Magical Molly! Reboot series.

Melody also shares very little traits (caring and discreet) from Onodera.

Kana Hanazawa, which also provides the Japanese voices of The Sisters: Ignis and Grace, & Alice from Clara✩Alice from the same series above.

In Magical Molly! THE GAME, A broken pair of glasses can be seen in an area. It might have been belonged to her.
Ad blocker interference detected!
Wikia is a free-to-use site that makes money from advertising. We have a modified experience for viewers using ad blockers

Wikia is not accessible if you've made further modifications. Remove the custom ad blocker rule(s) and the page will load as expected.