Note: Some (or most) of the information is copied from Puella Magi Wiki or any other pages.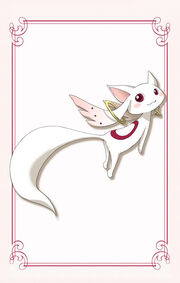 Kyubey (キュゥべえ
Kyuubee
, short for
Incubator,
also spelled Kyuubey and QB) is an extraterrestrial character in the Madoka Magica series who is constantly trying to make contracts with girls so they can become magical girls. He's from a race of beings who share a hive mind, and aim to make contracts with as many girls as possible to fill their "quota" for each planet, and prevent the heat death of the universe. He is known to lack emotions (in the anime, at least. In the manga adaptation, he appears to have a wide range of emotions, or at least the ability to fake them.), and is very knowledgeable on the whole concept of Magical Girls. Most of the girls in the series do not get along with him, and don't see eye-to-eye with him, due to the hardships of being a Magical Girl that Kyubey did not mention.
Sometimes he is called "Cube".[1]
Fanfiction Appearances
Edit
List your fanfiction here if this character appears in it.
Puella Magi Destiny Magica
Edit
Kyubey remains in his role as a Magical girl recruiter in Puella Magi Destiny Magica. As far as it is told in the Side story Dark Heart, Kyubey had contracted with Darangel Kuroshinzo after she had to kill her own friend to stop her from becoming a witch.
Kyubey still has his role as a magical girl recruiter in IchokaSuzumi666's series. In Puella Magi Christina Magica: The Fate of a Twin, he tries to make a contract with Amelia, but fails every time.
Kyubey continues his role as a Puella Magi recruiter in Caramelangel714's series. He is also the main antagonist creature. He summons his own monster form to destroy Star World (it was all thanks for himself as he united with the Dark Queen Karin).
Puella Magi Madoka Magica: Journey Through The Decade
Edit
The Incubator's original counterpart existed in the current timeline. He had yet to appear in the series.
Kyubey's role is rather minor, being mostly used for expostion  especially about Mary Sues near the end. He is also the only canon character present in the spin-off, Kenko Magica. Curiously though, he does wonder if he should regret making a contract with Jayne White, since Niji Akemi is taking things too far even for him. He might have a large role in a planned prequel series.
Magical Molly! Reboot Series
Edit
Main Article: Kyubey (doll)
Although not formally appearing in the series, Kyubey appears as a non-living doll.
References
Edit
↑

Puella Magi Tart Magica
Ad blocker interference detected!
Wikia is a free-to-use site that makes money from advertising. We have a modified experience for viewers using ad blockers

Wikia is not accessible if you've made further modifications. Remove the custom ad blocker rule(s) and the page will load as expected.