| | | |
| --- | --- | --- |
| | | Spoiler Alert: This article/section contains details about future plotlines described in the Fanon series. Do not proceed unless you want to be spoiled. We warned you, seriously. |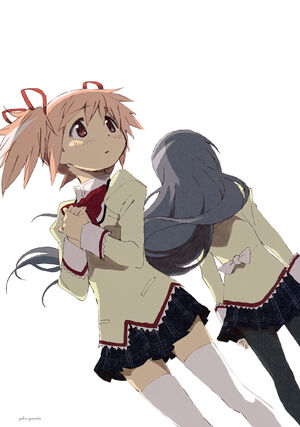 Hilda was heavily injured after a battle against Yuuri, while new enemies emerge to kill the rest of Team Quintet, along with a new powerful Witch. However: the injured Hilda decides to make the ultimate sacrafice for the sake of her teammates.
Characters
Edit
Magical Girls
Edit
Molly Kelley
Hilda Adams (deceased)
Maria Thompson
Sabrina Mickey
Kacey Stevens
Michelle Kazusa
Antagonists
Edit
Yuuri Asuka
Kathryn Hinata
Scierra Yuuki
The Sisters
Trivia/Notes
Edit
This section is currently updating.
Rating: PG-13

After the film's premiere has ended, the producer's twitter uploaded an image of the Homura Akemi lineart, with red marks representing where Yuuri Asuka had shot Hilda.
Continuity Notes
Edit
This film takes place after the final episode of the 1st season, & before the 2nd season.
Hilda uses her time reset ability for the first time, albeit failed before it works.
Puella Magi references
Edit
Hilda's death is a nod to Homura's death in her route in Madoka Magica Portable.
Kathryn's first (head-out-of-frame) scene is a nod to Kagari's appearance in the end of the 9th chapter of Suzune Magica.
Other Notes
Edit
One of the film scores: Good Night...Hilda Adams, is an orchestral remix versions of Never get There and Take your Hands, which is featured from The Rebellion Story.
One of the songs from Madoka Magica: See You Tomorrow by Aoi Yuki, was remixed for the film's finale theme.
Ad blocker interference detected!
Wikia is a free-to-use site that makes money from advertising. We have a modified experience for viewers using ad blockers

Wikia is not accessible if you've made further modifications. Remove the custom ad blocker rule(s) and the page will load as expected.