NOTE: This page is purely fanon material. I recommend you not to take this seriously.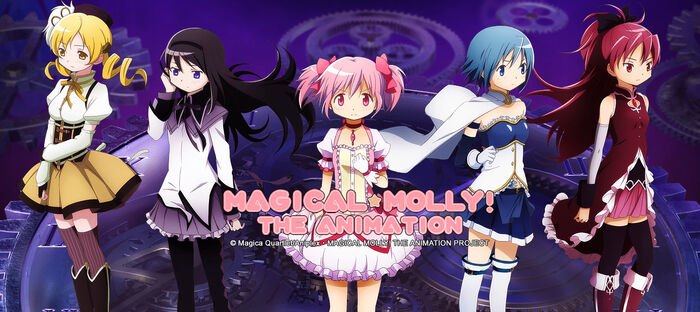 Magical Molly! THE ANIMATION is a Japanese/American Anime series created by Magica Quartlet & Aniplex of America. The series is a part of the Magical Molly! Reboot series, and the first of the Kajiurian Crusaders franchise.
The show will be broadcasted simultaneously in US & Japan. A year later, the Japanese dub of the series is available online in Youtube, with (official) English subtitles. The entire series is also available in DVD-BOX sets in uncut format.
Summary
TBA
Characters
Episodes
TBA
Music
Opening Theme
ClariS - Reflection (Season 1)
ClariS - Drawing (Season 2)
Ending Theme
Season 1
ClariS - Topaz (Episodes 1-12)
ClariS - TIME (Episodes 13-24)
Cast and Crew
The main cast (both Japanese and English) from the original Puella Magi Madoka Magica series reprised their roles as their titular characters, while new characters are voiced by other veteran voice actors/actresses.
Cast:
Notes: * = Voice Actors/Actresses credited under their original names.
Christine Marie Cabanos (English) / Aoi Yuuki (Japanese)- Molly Kelley
Cristina Valenzuela* (English) / Chiwa Saito (Japanese)- Hilda Adams
Carrie Keranen (English) / Kaori Mizuhashi (Japanese)- Maria "Mary" Thompson
Sarah Wiliiams (English) / Eri Kitamura (Japanese) as Sabrina Mickey
Lauren Landa (English) / Ai Nonaka (Japanese) - Kacey Stevens
Shelby Lindley (English) / Ryouko Shintani (Japanese)- Hilary
Troy Baker (English) / Kouki Uchiyama (Japanese)- Hyde Anderson
Kira Buckland (English) / Maaya Uchida (Japanese) - Raven
Brittney Karbowski (English) / Yui Horie (Japanese) - Michelle Kazusa
Tabitha St. Germain (English) / Satsuki Yukino (Japanese) - Yuuri Asuka
Marianne Miller (English) / Seiko Yoshida (Japanese) - Kyle Knowles
Monica Rial (English) / Sakura Ayane (Japanese) - Kristen "Kaoru" Margaret
Brina Palencia (English) / Fumiko Orikasa (Japanese) - Monica
Hynden Walch (English)/Kana Hanazawa (Japanese) - Ignis/Grace
Kathleen Barr (English)/Mie Sonozaki (Japanese) - Arstella
Sarah Williams (English)/Ami Koshimizu (Japanese) - Kathryn Hinata
Kelly Sheridan (English)/Ryouka Yuzuki (Japanese) - Scierra Yuuki
Carrie Savage (English) / Yuuko Gotou (Japanese) - Judy Kelley
Kyle Herbert (English) / Tetsuya Iwanaga (Japanese) - Thomas Kelley
Stephanie Sheh (English) / Kaori Mizuhashi (Japanese) - Taylor Kelley
Lara Jill Miller (English) / Mami Shitara (Japanese) - Momo Stevens
Lauran Landa (English)/ Yui Ogura (Japanese) - Kanami
Kate Higgins (English)/ Sachika Misawa (Japanese) - Tsubaki Mikoto/Kanon
Jason C. Miller (English)/Yoshitsugu Matsuoka (Japanese) - Noel
Karen Strassman (English)/Junko Iwao (Japanese) - Susan Kazuko
Johnny Young Bosch (English)/Daiki Hamano (Japanese) - Kevin Andrews
Nicole Oliver (English)/ Miyu Matsuki (Japanese, S1 and first half of S2), Mamiko Noto (Japanese, current) - Miya Yoshino
Jerry Jewell (English)/ Yoshimosa Hosoya (Japanese) - Mr. Tachibana
Crew
Director: Ryouki Kamitsubo
Character Design: Takahiro Kishida
Music:

Yuki Kajiura (Movies & TV Series),
Toshihiko Sahashi (Movies)

Music Production:

Lantis Company, Limited (TV series)
Warner Bros. Music (Movies)

Theme Song Performance: ClariS
Producer: TBA
Distributor:

Warner Bros. Entertainment
Aniplex of America
Magica Quartlet
Home video
Main Article: Magical Molly! THE ANIMATION/Home Video Releases
The DVD home video releases were planned by Warner Bros. Entertainment Inc.
Trivia/Notes
Rating: TV-PG, TV-PG-V
Despite theories, the TV series is NOT a reboot of Puella Magi Madoka Magica, but instead it's a non-4Kids remake of Magical Molly!.
This was also the first Magical Molly! series NOT to be produced by 4Kids Entertainmment.

The reboot also did not credit 4Kids as creative consultants.

One of the most popular fake working title of this series is "Puella Magi Molly Magica".
It was rumored that they will made an Episode based on Madoka Magica's drama CD: Sunny Day Life.
Originally ClariS were meant to sing the theme songs for the show, but due to Alice being graduated from college, it was replaced by FictionJunction instead. Some of ClariS' songs, old and new, were featured as the theme songs of the series.
And no, the Japanese dub will NOT feature any ad-libbing.
So far, Magical Molly! THE ANIMATION is the only TV series to feature almost all of the adaptions of various main Magical Girls from the Puella Magi franchise. 
See Also