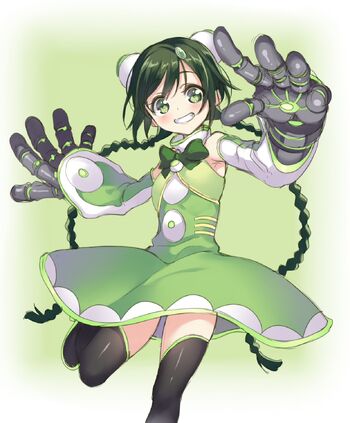 Matsuri Hinata
(日向 茉莉
Hinata Matsuri
) is one of the characters appearing in
Puella Magi Suzune Magica
.
One of the Hoozuki Magical Girls, a positive-thinking girl who is classmates with Suzune. She wants to become friends with Suzune, even after finding out that she was responsible for the death of Chisato. Her magical weapons are robotic gloves that can shine bright lights at her opponents, and she also possesses the ability to search for others, though she states that this ability is best used as support in battle. She has a plush charm of a rabbit head named "Usa-chan", and nicknames Kyubey as "Kyu-chan".
Matsuri reveals to Arisa at one point after Haruka's death that she was blind when she was younger, and wished to have sight as a result. Kagari knocks her out upon arrival so she can deal with Suzune alone, but Matsuri wakes up in time to save Suzune and confront Kagari. Despite Kagari's monstrous deeds and attempts on Matsuri's life, Matsuri never tries to kill her and tries to convince Kagari to stop her revenge. She is eaten by Kagari's witch and supposedly dies, but it turns out to only be an illusion, and manages to survive after Suzune defeats the witch. On Suzune's deathbed, Matsuri promises to never forget her, the Yunagi girls, Kagari and Tsubaki, and that they'll stay friends forever. Afterwards, Matsuri inherits the bell-and-pouch pendant and wears it as a hair tie herself. She is the only survivor of the events of the story.
Official arts
Edit
Manga Scans
Edit
Trivia/Notes
Edit
Matsuri's first name is spelt with the kanji for "jasmine". "Matsuri" can also mean a festival or celebration.
Hinata, Matsuri's and and her older sister's last names, means "sunny place".
According to GAN's tweets:

Matsuri has a telephone motif. Her hair buns are the handsets, her braids the code, and her dress the dial. She has "gauntlets" as weapons because GAN wanted to draw "shining fingers" move from Mobile Fighter G Gundam, but having it performed against humans would leave a pretty nasty impression (it's intended to crush the head of targets, after all), so they dropped the idea.
Matsuri is also supposed to be the character the audience can most identify with in volume 3.
Ad blocker interference detected!
Wikia is a free-to-use site that makes money from advertising. We have a modified experience for viewers using ad blockers

Wikia is not accessible if you've made further modifications. Remove the custom ad blocker rule(s) and the page will load as expected.