Mirai Wakaba (若葉 みらい, Wakaba Mirai) is a character in Puella Magi Kazumi Magica: The Innocent Malice.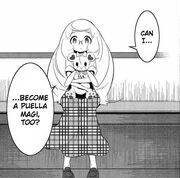 One of the Pleiades Saints, who often acts like a rich kid and tends to whack Kazumi on the head whenever she doubts herself. She has the ability to summon large amounts of teddy bears to overwhelm the enemy. She used her wish to have a museum for all her teddy bears. In the past, she was a shy girl who didn't have any friends. She was in love with Saki, but was ultimately killed by her when she turned into a witch.
Fanfiction Appearances
Edit
TBA
Marissa, her Magical Molly! Reboot counterpart.
Ad blocker interference detected!
Wikia is a free-to-use site that makes money from advertising. We have a modified experience for viewers using ad blockers

Wikia is not accessible if you've made further modifications. Remove the custom ad blocker rule(s) and the page will load as expected.