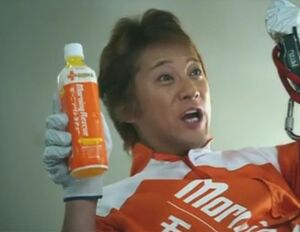 Morning Rescue (モーニングレスキュー) is a commercial for a Japanese drink created by the company House that appeared during the broadcast of the second episode of Madoka Magica. The drink is a specially formulated drink with Ukon herbs and other ingredient, though some people have reported that it tastes exactly like orange.
"The Power of Ukon, Morning Rescue."
―Morning Rescue Commercial
Morning Rescue is one of the popular drinks in Mitakihara City.Magical Molly! Reboot (franchise)
External Links
Edit
Ad blocker interference detected!
Wikia is a free-to-use site that makes money from advertising. We have a modified experience for viewers using ad blockers

Wikia is not accessible if you've made further modifications. Remove the custom ad blocker rule(s) and the page will load as expected.