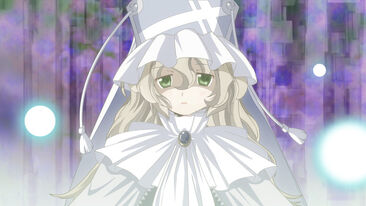 Oriko Mikuni (美国 織莉子, Mikuni Oriko) is a magical girl with the ability to see into the future. She looked up to her father, who was a government official, until he hung himself after being caught doing illegal business, which in turn left Oriko betrayed by her classmates. She made a contract to Kyubey wishing to know the meaning of her life, gaining the ability to see into the future, which also gives her foresight in battles, where she attacks using metal orbs.
After seeing a vision of a destructive witch — Kriemhild Gretchen — she cannot possibly defeat, she makes it her goal to kill Madoka in order to prevent her from becoming a witch and destroying the world. She attempts this by nominating Yuma as a magical girl candidate, and sending Kirika to hunt other magical girls, in order to distract Kyubey from making a contact with Madoka.
In Symmetry Diamond, Oriko instead sees only Walpurgisnacht, and teams up with Kirika to stop it. She later meets Yuma in a park, and eventually helps out the girl by directing her to a new family after learning of her abusive household situation.
Fanfiction Appearances
Edit
List your fanfiction here if this character appears in it.
Puella Magi Madoka Magica: Journey Through The Decade
Edit
She was confirmed to be appear in the series Episode: Oriko Arc: Prophetam.
Ad blocker interference detected!
Wikia is a free-to-use site that makes money from advertising. We have a modified experience for viewers using ad blockers

Wikia is not accessible if you've made further modifications. Remove the custom ad blocker rule(s) and the page will load as expected.