Note: Some (or most) of the information is copied from Puella Magi Wiki or any other pages.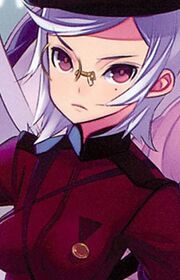 Saki Asami (浅海 サキ Asami Saki) is a character appearing in Puella Magi Kazumi Magica.
An intelligent magical girl who is the leader of the Pleiades Saints and has a strong desire to protect Kazumi. After the death of her sister, Miyuki, she became a magical girl after being saved by Kazumi, wishing for the flower Miyuki left behind to bloom forever. When she learned of the nature of magical girls' transformations into witches, she and the other Pleiades Saints began removing soul gems from other magical girls and preserving their bodies so that they would not become witches, hoping for a way to make them human again. It's stated that Saki was in love with Michiru, the original Kazumi, which makes her unable to kill the failed clones. Inevitably, she is turned into a witch when Kanna forces an evil nut into her.
Fanfiction Appearances
Edit
List your fanfiction here if this character appears in it.
Ad blocker interference detected!
Wikia is a free-to-use site that makes money from advertising. We have a modified experience for viewers using ad blockers

Wikia is not accessible if you've made further modifications. Remove the custom ad blocker rule(s) and the page will load as expected.