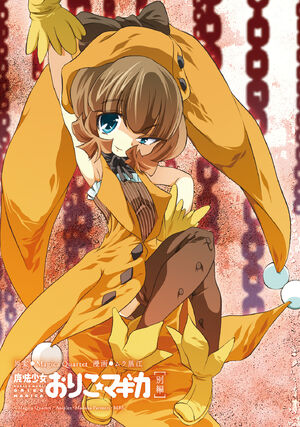 Sasa Yuuki (優木 沙々 Yūki Sasa) is a magical girl who appears in the spin-off Symmetry Diamond, arriving in Mitakihara City to claim new territory. She is a magical girl with mind-control abilities. Sasa is a girl who at first appears bubbly and kind, but her cheerful side masks an incredibly vicious and possibly even vengeful side of her. She has a tendency to laugh madly at times. Despite her enthusiastic controlling of witches, Sasa turns out to be horrified at the fact that magical girls themselves become witches. In Symmetry Diamond, after Sasa's plan is thwarted, Oriko reveals to her the fate of magical girls, that they eventually turn into witches. Sasa, horrified, screams how she doesn't want to become a witch and smashes her soul gem, dying.
She makes a reappearance in Sadness Prayer following Komaki's death.
Fanfiction
Edit
List your fanfiction here if this character appears in it.
Ad blocker interference detected!
Wikia is a free-to-use site that makes money from advertising. We have a modified experience for viewers using ad blockers

Wikia is not accessible if you've made further modifications. Remove the custom ad blocker rule(s) and the page will load as expected.