Note: Some (or most) of the information is copied from Puella Magi Wiki or any other pages.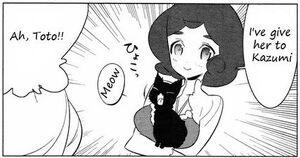 Satomi Usagi 
(宇佐木 里美) is a character in Puella Magi Kazumi Magica: The Innocent Malice.
A polite magical girl, she was unable to help a pet cat, she used her wish to gain the ability to talk to animals as she wants to become a vet when she grows up. Her magic allows her to control other people. Similar to Mami in the original series, she is shown to become mentally unstable when she learns the truth about witches and sees Kazumi as a witch who only looks like a human. Revealing the truth to Kazumi about her true nature, Satomi attempts to kill Kazumi using other failed clones; however, during the battle, her soul gem begins to crack despite not having any visible corruption, and she transforms into a witch who is soon killed by Kazumi.
Fanfiction appearances
Edit
List your fanfiction here if this character appears in it.
Ad blocker interference detected!
Wikia is a free-to-use site that makes money from advertising. We have a modified experience for viewers using ad blockers

Wikia is not accessible if you've made further modifications. Remove the custom ad blocker rule(s) and the page will load as expected.