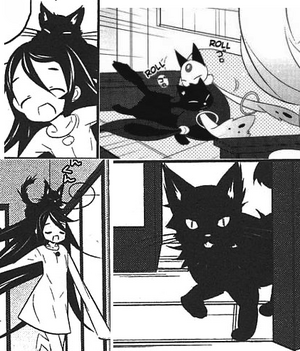 "It's all shaggy..."
―Kazumi meets Toto for the first time.
Toto is a black cat appearing in Kazumi Magica. As the cat is seen in chapter 11 at Kazumi's home with her grandmother, it can be assumed the cat belongs to Kazumi.
Fanfiction Appearances
Edit
Magical Molly! Reboot continuity
Edit
Toto (which he was still a nameless stray cat) was usually met by Michelle Kazusa. After Michelle had turned against her former master, She meets the cat again, naming it "Toto". However due to the fact that Michelle doesn't know how to take care of a cat, she gave Toto to Nicole.
It was unknown what happened to Toto many years later. It was mostly implied that he passed away due to the cat's 15-year lifespan.
In this series, Toto is a male cat, since it's Kazumi Magica counterpart is yet to reveal any of it's gender.
Ad blocker interference detected!
Wikia is a free-to-use site that makes money from advertising. We have a modified experience for viewers using ad blockers

Wikia is not accessible if you've made further modifications. Remove the custom ad blocker rule(s) and the page will load as expected.