Tsubaki Mikoto (美琴椿, Mikoto Tsubaki) is a posthumous character appearing in
Puella Magi Suzune Magica
.
Suzune's former mentor, who became a witch. Nothing is currently known about her past or wish. Suzune killed her and inherited her bell-and-pouch pendant, which she wears as a hair tie. She formerly took care of Matsuri and Kagari as some form of caretaker, and told them stories; at one point she encouraged Matsuri to be a kind person and listen to her father and Kagari. She took care of Suzune after her parents' death at the hands of a witch, and treated her like her own daughter. She had fire-elemental powers.
Official art
Edit
Trivia/Notes
Edit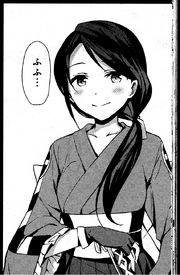 Tsubaki's hairstyle is the same as the infamous "doomed anime mom" hairstyle (which is shared from the rest of the motherly characters from various Anime/Manga.), where a mother with a side-tie ponytail is certain to die at some point in the story (except for several of the mother characters from other series).
Tsubaki's first name is spelt with the kanji "camellia". Her last name, Mikoto, is spelt with the kanji for "beautiful harp". "Mikoto" could also mean noble, precious, or revered.
Tsubaki and Kagari are the only major original characters without character profiles so far.
Tsubaki's appearance might have been inspired from GAN's original character: Sanae.
According to GAN's Tweets:

Tsubaki is apparently around 20 years old in the flashbacks.

This also marks that Tsubaki is the 3rd oldest Magical Girl in the canon series, while the first one is Mami Tomoe, and the second is Mikuni Oriko.

GAN seems to have a liking to Tsubaki, so he draws her all the time.
Ad blocker interference detected!
Wikia is a free-to-use site that makes money from advertising. We have a modified experience for viewers using ad blockers

Wikia is not accessible if you've made further modifications. Remove the custom ad blocker rule(s) and the page will load as expected.