Personality
Edit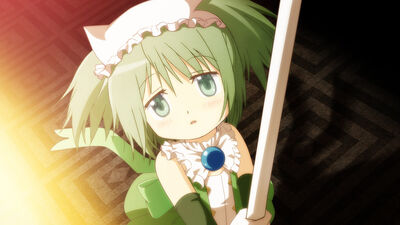 Yuma alternates between acts of maturity and childishness, showing delight in small things and childlike affection towards Kyoko, but also seriousness when events require it. She can be hot-headed and prone to spontaneous acts and much like Madoka, exhibits insecurity and a strong feeling of self-worthlessness. In Yuma's case, this could be explained by her backstory as an abused child and orphan. Yuma, like other magical girls, exhibits a desire to help others and contracts to help Kyoko. Like other girls, it isn't a completely selfless desire; Yuma has a fear of being abandoned and wishes to keep Kyoko alive and well as her caretaker.
Fanfiction Appearances
Edit
List your fanfiction here if this character appears in it.
Puella Magi Madoka Magica: Journey Through The Decade
Edit
She first appears in the two-parter episode: Kyoko Arc.
Ad blocker interference detected!
Wikia is a free-to-use site that makes money from advertising. We have a modified experience for viewers using ad blockers

Wikia is not accessible if you've made further modifications. Remove the custom ad blocker rule(s) and the page will load as expected.